Calgary Flames and Stampeders team physicians get players back in the game post-fracture
"It never fails — hockey equals slapshots and slapshots often lead to broken fingers and toes," said Dr. Jim Thorne, team physician for the Calgary Flames, Calgary Stampeders, and Team Canada Men's Hockey.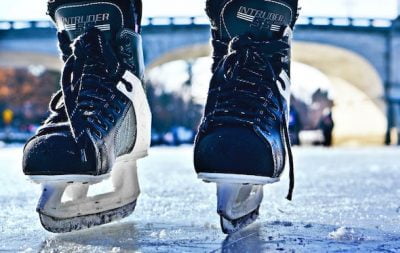 "It never fails — hockey equals slapshots and slapshots often lead to broken fingers and toes," said Dr. Jim Thorne, team physician for the Calgary Flames, Calgary Stampeders, and Team Canada Men's Hockey. 
Dr. Thorne has seen all sorts of injuries during his more than a thirty-year career working with elite athletes including "many different fractures on many different patients". He's shared in victories and gold medals covering more than sixty Hockey Canada tournaments. 
Despite wearing loads of protective gear, including helmets, pads, and gloves, hockey players are prone to breaking bones. In Canada, hockey is the leading cause of sports-related injuries that can land a player in a hospital's emergency department. 
Professional hockey players skate at incredibly high speeds of upwards of 40 km per hour. In this quick-moving game, high-speed collisions with the boards and other players are common, as are traumatic injuries. Many sports also now have gruelling year-round training schedules, which increase the risk of overuse injuries and stress fractures. 
Using low-intensity pulsed ultrasound to heal athlete's fractures
Injuries can end an athlete's season or even their whole career. But healing a fracture means taking time off and getting lots of rest. Professional athletes often don't want to wait for a full recovery, but returning to the sport too early can worsen the fracture or cause further injuries. 
Dr. Thorne has found that some fractures are prone to delayed healing or non-union, which is when the bone fails to heal completely. These include fractures in the thumb, wrist, foot, and collarbone. When Dr. Thorne started recommending low-intensity pulsed ultrasound (LIPUS) to his patients with fractures, he noticed fast results. LIPUS devices improve and quicken the healing of fractures, getting players back on the ice faster. 
"Many of these players get paid $50,000 per game. So you can imagine that if we can cut the healing time from five missed games to three everyone is happy," said Dr. Thorne. "The league is now eager to pay for these devices." 
LIPUS devices are used at home or on the road to stimulate bone healing through non-invasive ultrasound technology. Painless mechanical forces are used to stimulate the bone, activating cell-reproduction and protein expressions to accelerate healing. Treatment with LIPUS devices can also decrease the need for surgery, which is highly beneficial to athletes. 
Dr. Thorne, who now uses this technology routinely, said "for healing any fracture on an elite athlete, adding LIPUS has now become the standard of care."
Football fractures show similar results with LIPUS treatment
Another high-impact sport that can lead to many broken bones is football. Football has players tackling each other, being slammed to the ground, and running long distances, among other stressors to the body. Football players most often are seen to suffer from fractures in the hand, foot, or ankle.
One of the most common injuries in football is metatarsal fractures. This is a fracture of a small bone in the foot that stretches from the ankle to the toes. LIPUS has been used to successfully treat tricky fractures like these that may not be able to heal on their own. 
"Working with the Calgary Stampeders, I saw the positive healing effects of Melmak LIPUS devices tested many times," said Pat Clayton, head athletic therapist and director of medical services for the football team. "Some of the most promising cases were in treating scaphoid fractures. These were treated in a cast under the direction of our orthopedic surgeons and showed remarkable early bone bridging in many of the cases."
Some of the trickiest fractures to heal are scaphoid fractures, which is a break in a small bone in the wrist. Players diving onto the field for a ball can break this bone on impact. Because of its location, the bone doesn't have good blood flow, which can cause delayed or incomplete fracture healing. 
But Clayton has seen great benefits to using low-intensity pulsed ultrasound therapy on these fractures and other conditions. For more than forty years, he has worked with patients in professional and amateur sports, as well as pre and post-orthopedic rehabilitation. He's been part of the medical staff for the Olympic Games, Pan American Games, and Grey Cup championship games. His patients with mild to moderate knee osteoarthritis reported that after using LIPUS devices for three weeks, their knee function improved and their pain decreased. 
"I have also used LIPUS devices on some soft tissue issues, such as Achilles tendonitis and hamstring strains all with excellent results after only a few treatments," said Clayton. "I believe that this technology has many benefits, both for athletes as well as for anyone who is dealing with a sports injury or fracture."
Your Canadian connection for faster fracture healing
There have been more than 20 years of proven results with low-intensity pulsed ultrasound therapy with no known side effects. The treatment is simple and painless. LIPUS devices are designed for self-use with no supervision by a medical professional required. Once the device is placed on the skin over the fracture, it's turned on with a press of a button for twenty minutes of stimulation.  
Studies have shown that, on average, fresh fractures will heal 38 percent faster with the use of LIPUS treatment than fractures that have not been treated with ultrasound. It has been proven to heal non-union fractures by 86 percent. 
Medlines Fracture Healing Inc. works with everyone from rookie teams to NHL hockey players to get you back to playing the sport that you love. We work directly with patients, healthcare practitioners, sports team managers, athletic trainers, and rehabilitation specialists. As the only rental program of LIPUS devices available in Canada, we are happy to provide free shipping of LIPUS devices country-wide. Our team is very informative, with more than 15 years of experience, and can help guide your treatment with one-on-one training and personalized care.